Best pans for steak: materials and models compared
Made In Cookware 5-ply Fry Pan
This frying pan by Made In offers amazing performance at half the price of high-end pans:
5-ply construction offers superior strength and warp resistance.
Induction compatible. Dishwasher safe and oven safe up to 800F.
Made In Cookware sells directly to consumers so they can offer premium quality for a much lower price.
Made in USA using American metals and has a limited lifetime warranty.
Sale 29%
Tramontina Stainless Steel 3-ply
The best value pan for a steak is Tramontina's Stainless Steel Tri-Ply Frying Pan:
It's affordable and is a good quality pan.
It can reach high temperature needed for cooking a good steak
Its design ensures great heat distribution and retention when cooking.
Very versatile and can be used on all hobs, as well as in the oven. This is ideal if you want to sear your steak on the hob before putting it in the oven to finish cooking.
What are the best pans for cooking a steak?
The best pan to cook steak in is a cast iron skillet, carbon steel fry pan or tri-ply (or even 5-ply) stainless steel pan. They can reach a very high heat and retain it which is essential for searing a steak.
Our recommended pans for each material:
Lodge Pre-Seasoned Cast Iron – best cast iron skillet
Mineral B Carbon Steel Pan – best carbon steel for steak (lighter than cast iron)
Tramontina's Stainless Steel Tri-Ply Pan – best stainless steel for steak (easier maintenance than cast iron)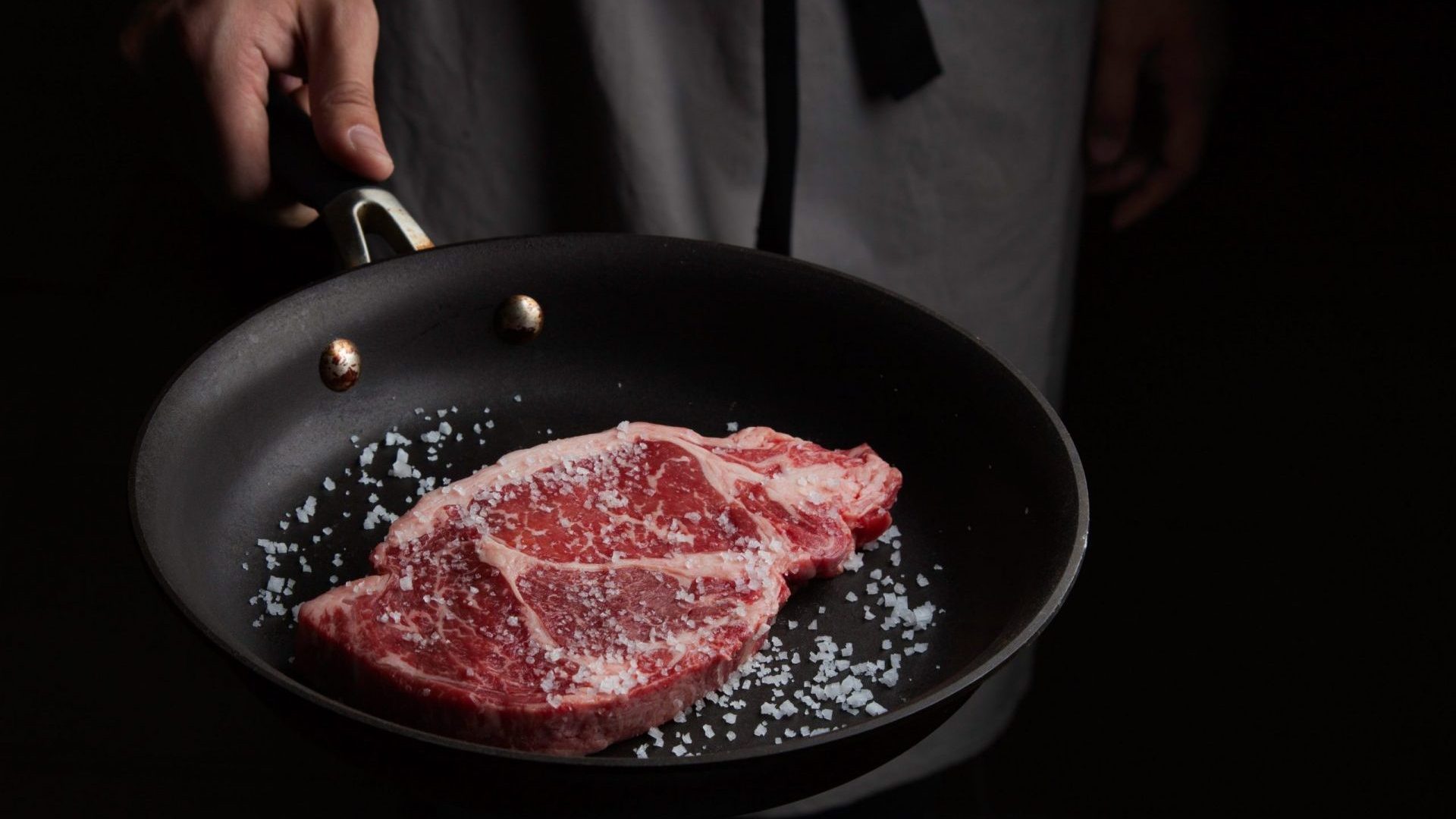 Cast iron gets very hot and is ideal for searing steak. It retains its heat well and distributes it evenly. It may take longer to heat up, but it retains heat for a long time. 
Cast iron is a strong and durable cookware material. Most cast iron pans come pre-seasoned. This is usually not sufficient and you will want to re-season the pan before first use. The seasoning provides a naturally nonstick surface when cooking. With this seasoning, you will not need to use much oil to cook your steak.  
Cast iron also has the gift of aging gracefully. The more you use your cast iron cookware, the better it cooks and the more seasoned it becomes. Cast iron is long-lasting and can be passed down to future generations.
PROS
A hot cast iron pan creates a tasty crusting effect while maintaining a juicy and tender inside. This cannot easily be replicated when using other cookware materials or methods. 
A cast iron pan will keep your steak warm while it's on the table. 
Cast iron cookware naturally leaks iron into your food when cooking, which helps to boost your iron levels. 
A well-seasoned cast iron pan will be easier to clean than one made of stainless steel.  
Because cast iron does not contain synthetic chemicals it is a healthier alternative.
Cast iron offers good value for money and is generally inexpensive.  
CONS
Cast iron pans are heavier than other pans and may be a bit uncomfortable when cooking. 
Cast iron pans need to be re-seasoned occasionally to protect them from oxidization. Avoid using harsh soaps and scourers when cleaning your pan. These will remove the seasoning.  
Cast iron pans are made as one solid piece, which means they transfer heat excellently. This also means that the handle gets very hot and you can burn yourself easily. A solution for this is to purchase handle holders or use oven mitts when cooking.  
Cast iron takes longer to heat up, but once it does it remains hot for a long time.
Get Kitchen equipment deals
Subscribe to get our curated list of discounts on cookware and kitchen
appliances as soon as sales start!
1. Lodge Pre-Seasoned Cast Iron Frying Pan, 10.25-inch
Lodge Cast Iron Skillet, Pre-Seasoned with Silicone Hot Handle Holder , 10.25 Inch Dia
CAST IRON SKILLET is 10.25 inches in diameter and includes red silicone hot handle holder. An improvement on the original: the Lodge Cast Iron Skillet, featuring an assist handle. This will be your go-to pan for generations to come
SEASONED CAST IRON COOKWARE. A good seasoning makes all the difference. Lodge seasons its cookware with 100% vegetable oil; no synthetic coatings or chemicals. The more you use your iron, the better the seasoning will get
CAST IRON provides superior heat retention and is unparalleled for even cooking. Lodge Cast Iron Skillets are at home in the oven, on the stove, on the grill or over the campfire
Lodge's 10.25-inch cast iron pan is made to last for decades. This pan is constructed to last decades of cooking. It is perfect for baking, searing, braising, frying and sautéing food. This pan can be used in the oven and on the stove. It comes with a genuine leather hot handle mitt that can protect your hands up to 600F. This mitt helps to provide a firm grip when cooking. Lodge uses 100% vegetable oil when seasoning their pans and does not make use of synthetic chemicals or coatings. 
Lodge recommends maintaining your pan by washing it by hand with only mild soap or no soap. It should then be dried with a paper towel or lint-free cloth. Once dry, they suggest rubbing a light layer of vegetable oil on the pan, preferably while it's still warm. It should be stored in a dry place until the next use. 
Most customers are very pleased with their purchase and are very happy with the price they paid. Customers have noted that the pan needs additional seasoning before use to ensure nonstick cooking.
This video demonstrates how to make a perfectly seared, butter-basted steak in a cast iron pan.
2. T-fal Pre-Seasoned Cast Iron Frying Pan, 12-Inch
This T-fal cast iron pan is easy to cook with. It can be used to grill steak, vegetables, and fish and is perfect for sautéing, searing and browning ingredients. The pan has an extra-long handle with a thumb rest. The easy-grip side helper ensures easy handling when cooking. The pan can be used on all stovetops, including induction. It can also be used in the oven with temperatures up to 600F. The pan also features pouring spouts to make transferring contents easier and less messy. This pan is PFOA and Cadmium free.
It is important to season your cast iron pan properly to prevent it from rusting. Regularly seasoning your pan will maintain the natural nonstick surface and prolong the lifespan of your pan. Customers comment that the pan is heavier than other steak pans. The majority are pleased with their purchase and would recommend it. 
Carbon steel is another hardy material that is as durable and versatile as cast iron, but considerably lighter. Almost half the weight in some cases. This sister of cast iron can do many of the same things, while also having added advantages. Carbon steel reacts quicker to changes in temperature when cooking. Carbon steel pans have smoother surfaces than cast iron and can cook more evenly. 
While carbon steel is slightly more expensive than cast iron, it is still very affordable.
Some people may say that they find their carbon steel pans have hot spots. This is generally due to the pan being quite thin and of poorer quality. This can be avoided by buying a pan from a better-known seller. 
Although not major enough to notice, carbon steel does not retain heat as well as cast iron would. However, this does mean that your pan will heat up and cool down in less time. 
If carbon steel is not seasoned it will rust. This is why the majority of carbon steel pans will arrive with a wax layer. This wax layer protects the pan until its owner can season it. The layer should be removed before seasoning and cooking. 
PROS
Carbon steel pans have a smooth surface, allowing for the steak to sear better than if the pan had rivets or a rough surface. 
Carbon steel holds its heat well.  
Carbon steel pans are lighter than cast iron.
Carbon steel pans can be used in the oven. They are perfect for searing a steak on the stove and finishing it off in the oven. 
Over time, carbon steel will build up a natural non-stick layer from its seasoning. 
Carbon steel pans are seasoned with oil and do not have any synthetic chemicals on their coating. 
CONS
Carbon steel requires regular seasoning. Avoid cooking acidic foods in your seasoned carbon steel pan. This will remove the layer of seasoning. 
Do not wash your seasoned pan with normal soap, this will remove the seasoning. Rather use a mild soap or warm water. 
The handles on the pan get very hot and can be a hazard while cooking. This can be avoided by using a handle cover or an oven mitt. 
3. Mineral B Carbon Steel Frying Pan, 14-Inch
MINERAL B Round Carbon Steel Fry Pan 14-Inch
100-Percent Natural and 99-Percent Pure Iron
Guaranteed without PTFE or PFOA and no chemicals added; naturally non-stick after seasoning
Bee Wax was discovered by deBuyer as a by-product in nature to help protect these pans against oxidation and assist in seasoning
De Buyers guarantees that this carbon steel pan is free of PFOA, PTFE and does not have any added chemicals. The pan is made of 99% pure iron and is 100% natural. A natural nonstick surface can be added by seasoning the pan before use. De Buyer uses bee's wax to protect their pans against rusting and to help with the seasoning. They recommend that you wash it by hand, using hot water for washing and coarse salt to sterilize it. 
This pan can reach high temperatures and quickly cooks food, preserving its nutrients and vitamins. It retains and evenly distributes heat. It is perfect for browning, grilling, and searing. The pan is induction ready and can be used in the oven for 20 minutes at 400F. 
Several customers noted that the wax layer was challenging to get off. Customers commented that they wish that the handle was not coated so that it could go in the oven. The vast majority of people who bought this pan were satisfied with their purchase and use it as their go-to pan. 
4. Lodge Carbon Steel Seasoned Frying Pan, 12-Inch
Sale 20%
This carbon steel pan from Lodge can withstand high heats, which is essential for browning and searing meat. This is ideal for cooking steak. It is built to withstand long-term use. Thanks to the thickness of its cooking surface, the pan heats up quickly and retains its heat. It can be used on most hobs like gas, electric and induction. The pan comes seasoned, but it is recommended to season it yourself before cooking with it. The carbon steel pan can maintain both low and high heats, which makes it very versatile. 
Customers noted that the pan warped quite easily and that the surface was quite rough and hard to season. Others noted that the pan was not as light as they hoped it would be. The majority of customers are pleased with their purchase and say they have switched from cast iron to carbon steel. 
Unlike cast iron and carbon steel, stainless steel is non-reactive. This means that you can use ingredients like wine to flavor your steak when cooking it and it will not damage the pan. Stainless steel is also great at browning meat and cooking stir-fries. You can also use metal utensils when cooking with stainless steel. 
Stainless steel heats up quicker and responds quickly to changes in temperature when cooking. It can even be used in the oven. Many stainless steel pans come with a core of a different material, which helps to retain heat and conduct it more evenly than other materials like cast iron and carbon steel. Aluminum and copper are excellent heat conductors used as core materials. These pans may be a bit more expensive than your average pan, but they are an investment that will last you the rest of your life if you look after it. 
Stainless steel is also very light compared to cast iron. Stainless steel cookware is very easy to clean and maintain. It can be washed by hand with soap and a normal cleaning pad or in the dishwasher.
PROS 
You can use acidic ingredients like wine to cook your steak when you use stainless steel. 
Stainless steel is easy to clean and you can wash it along with the rest of your dishes. No special treatment is needed.
You can use metal utensils when you cook. 
Stainless steel is light and easy to maneuver around when cooking. 
Stainless steel pans can be used in the oven. This means you can use a combination of both oven and stove when you cook your steak.
Stainless steel pans can be cleaned in the dishwasher.
CONS 
Stainless steel pans are more expensive than cast iron and carbon steel pans. 
5. Tramontina's Stainless Steel Tri-Ply Frying Pan
Sale 29%
Tramontina's 10-inch Tri-Ply pan has the same alternating layers design that All Clad does. This ensures that the pan retains heat and distributes it evenly over the entire surface. 
This pan is ideal for induction, thanks to its magnetic stainless steel outer layer. It can also be used on all other cooking hobs. It is dishwasher safe and oven safe up to 500F. The pan is fitted with a nice comfortable handle that offers a secure grip when cooking. Tramontina also offers a lifetime warranty with the pan. 
Several customers said that their ingredients stuck to the pan. The vast majority of customers who purchased this pan considered it a value for money and like how solid it is and how easy it is to use.
6. All Clad D3 Stainless Steel Frying Pan, 10-inch
Sale 38%
All-Clad D3 Fry Lid, 10 Inch Pan, Dishwasher Safe Stainless Steel Cookware, Silver, 10-Inch
TIMELESS PROFESSIONAL APPEAL: All-Clad D3 Stainless is the perfect choice for anyone who loves to cook. Beyond the classic stainless-steel style, you will find a well-constructed, high-performance, easy to use skillet for all, from beginner to culinary artist
VERSATILE FOR ALL YOUR COOKING NEEDS: This 10-inch fry pan features low, sloped sides for easy flipping and turning, and a wide flat surface for searing and browning, fitting 2-3 chicken breasts at once. Each piece is crafted with quality materials to hold and distribute heat evenly throughout the pan, so only medium heat is needed for most searing, sautéing, and simmering
MADE IN THE USA TO LAST A LIFETIME: The D3 Stainless collection features three alternating layers of American-made stainless-steel and aluminum, bonded together all the way to the rim. The classic stainless-steel handles stay cool on the stovetop and are permanently secured with stainless-steel rivets. Products are rigorously tested to ensure that every item with the All-Clad logo offers a lifetime of beauty and performance
This 10-inch pan is perfect for amateur cooks and professionals alike. It is great at searing and browning meat, as well as sautéing and simmering. The pan is a good size and can fit 2-3 chicken breasts at the same time. 
The pan has a design of three alternating layers. These consist of a stainless steel cooking surface, an aluminum core, and a stainless steel outer layer. This special design ensures exceptional heat retention and distribution when cooking. The pan can be used on all hobs including induction and is both broiler and oven safe up to 600F. This frying pan also comes with a lifetime warranty. 
A few customers noted that the pan was difficult to clean and that the pan was not completely flat. The majority, however, are very happy with their stainless steel pan and enjoy cooking with it. 
Alternatively, you can choose All Clad D5 pan.